Bath & NES Ceremonies Guide
Marry Me
in Kensington and Chelsea
Cambridgeshire Ceremonies Guide
Isle of Wight Ceremonies Guide
Ceremonies in Warwickshire
Worcestershire Ceremonies Guide
West Sussex
Bereavement Guide
Civil Ceremonies
at Tower Hamlets Register Office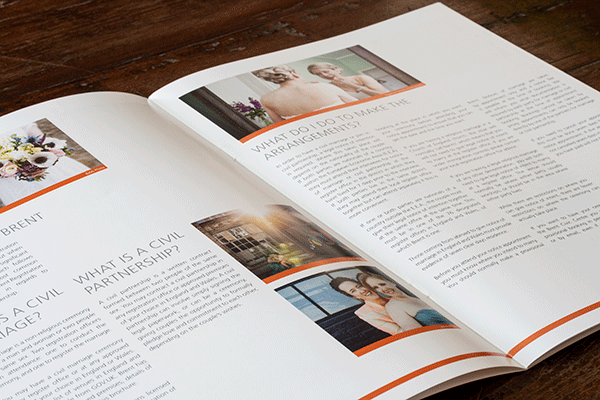 Cheshire West Ceremonies Guide
For 20+ years our team have been producing print and online media that keeps our clients coming back year after year. From ceremony guides, website and online magazines to brochures, leaflets, folders and stationery. Every publication we produce is bespoke, and we always take your branding and corporate identity guidelines into account.
If it's ceremonies literature you are after, you're in luck: this is our bread and butter. We organise sponsorship for registrar literature, meaning we can create high-quality designs complete free of charge. The sponsorship we source for ceremonies brochures focuses on relevant, successful venues and services, giving local businesses the opportunity to promote themselves in a beautiful and endearing guide.
We love producing guides that would sit comfortably on your coffee table:
Vibrant, great content and a refreshing editorial style (that means a welcome break from all those block ads!).
If you like the sound of that, feel free to have a browse and see some of our most recent work...
"I wanted you to know how helpful (and well designed!) your Weddings in Westminster brochure is. It is thorough and beautiful. Please let the designers, editors, and writers know!"

Bride
Westminster Register Office Wedding Guide
"In all my dealings with Pineneedle I have found staff at the company to be friendly, professional and reliable. I have been approached numerous times by others organisations offering a similar service but have never seen reason to change our longstanding relationship with Pineneedle."
David Randall
Superintendent Registrar
Isle of Wight Council Register Office
"We're really pleased with the brochure! I've noticed loads of our customers browsing through it in the waiting rooms and they seem to be flying off the shelves so thank you so much."

Rebecca Knight
Deputy Registrar
Tower Hamlets Register Office
Welcome to Pineneedle.
Design and Publishing Agency
*Specialising in Ceremonies Guides*
Est. 1988